Business Overview
Founded in 1936, Elliott Aviation is a full-service business aviation center offering a complete menu of high quality products and services. Serving the business aviation industry nationally and internationally, they have facilities in Moline, Illinois; Des Moines, Iowa; Minneapolis, Minnesota; and Omaha, Nebraska.
Aircraft Sales, Brokerage and Acquisitions
Avionics
Interiors
Paint
Maintenance
Parts
Aircraft Management
Charter
FBO Services
Services Offered
Elliott Aviation of Omaha is open 24 hours a day, 7 days a week.
Passenger Information
Complete ground handling service
Passenger lounge
On-Site Hertz car rental
Taxi and limousine services on call
Courtesy van available
Wide variety of catering available - from cold lunches to complete gourment meals
Conference room
Fax and copy machines available
10 minutes to downtown area
Complimentary coffee
Flightcrew Information
Air BP Jet A, 100 LL
Pilot lounge - snooze area
Complimentary satellite TV and movies
Complimentary computerized weather briefing
Crew cars available
Restaurants on field
Heated transient hangar space available (call ahead for arrangement)
Special rates at many area hotels and conference centers
Customs service on site - call ahead
Shower facilities
Lavatory, oxygen service
GPU and pre-heat capability
Charts
Tie downs, tanis plug-ins
Complimentary coffee, ice and newspapers
De-ice Capability
Aircraft Detailing
Elliott Aviation offers a variety of Dru cleaning packages to fit your needs
Teflon Package - Complete exterior reconditioning. Clean and degrease, deoxidize (removes haze, stains and discoloration), machine polish, apply Teflon high-gloss super seal to top and bottom of aircraft, sealing and protecting paint and resulting in a clear, non-stick surface.
Wax Package - Clean and degrease exterior and landing gear, machine wax exterior top sections, clean windows and vacuum interior.
Interior Package - Clean and condition leather seats and side panels, dry-clean fabric seats and side panels, dry-clean carpet and headliner, polish woodwork, clean and sanitize galley, clean panel, glare shield, yokes, chart holders and windows.
Wipe-down Package - Clean and degrease exterior top to bottom, clean and degrease landing gear, clean windows, vacuum interior.
Photos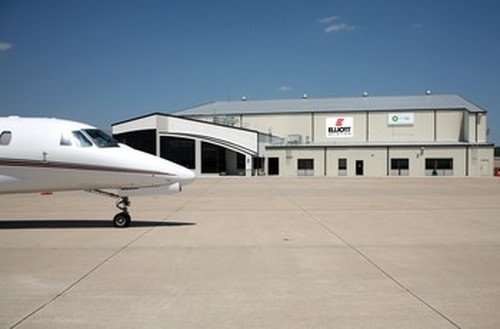 Elliott of Omaha Ramp Exterior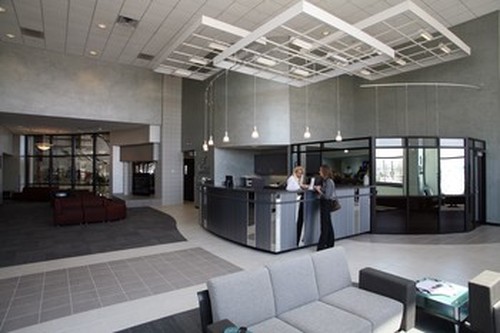 Elliott of Omaha FBO Reception Area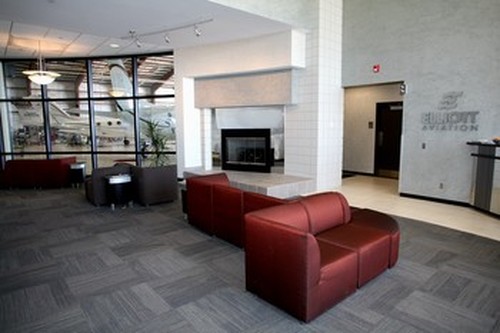 Elliott of Omaha Passenger Lobby
Elliott of Omaha Conference Room