Business Overview
When flying from the beautiful rocky shores of the north-east to the tropical sandy beaches of the south, be sure to stop into Cape May! Whether you're just staying for the day or looking for a weekend get-away, you can always find a pleasant experience at the Jersey shore.
With the highest ranked beaches, countless legendary restaurants, and the east coast's highest rated boardwalk, you will leave Cape May with a smile and great memories. A day visit can begin with sights into World War 2's aviation history at the Wildwood Naval Air Station Museum, located on the airfield, then lunch at The Lobster House, Cape May's seafood flagship restaurant. Explore the historical town by foot, trolley, or bike to see the Victorian Houses, Cape May point, WWII lookout tower, and sunset beach to finish off your visit. Or a Beer Run to the #1 Rated Micro Brewer in the Country Cape may Brewery.
Be sure to bring the kids for an experience of a lifetime at Morey's Piers Beachfront waterparks, "The best seaside park in the world" voted by Amusement Today. Morey's Piers offers 3 piers packed with more "WOW" than you can handle with rides and amusements. During your Wildwood visit, end your evening with an amazing dinner at Joe's Fish Company on the Wildwood boardwalk and a frozen treat from east-coast famous Kohr's Bros ice cream stand.
2021 COVID 19 Restrictions : Lobby Restricted to Two guests at one time. Waiting area inside hangar for others in pattern.
Avgas Full Service Truck restricted to Credit Card on File Holders Only - Call Ahead if requiring Truck service, Avgas Self Serv 24hrs.
Fueling at Diner & NASW prohibited, Taxi to FBO or self serv, Complementary Golf Cart ride to Diner.
Summer Ramp Fee apply for Single Piston - $7, Call for waiver information.
All Larger Aircraft - Facility Fees apply, Call For waiver information.
Rental cars by AVIS thru FBO, Uber, Taxis available
Services Offered
Full-Service & Self-Service Fuel thru Titan Fuels and AeroShell oil / Phillips Oil
---
Tie-down Available
---
GPU & LAV Service
---
Complimentary Coffee, Bottle Water, Ice, Wi-Fi & HD TV
---
Plane-Side Rental Car Pick Up / FBO Return (AVIS Only)
---
Crew Lounge
---
Baggage Handling
---
Avis Rental cars thru FBO
---
Pilot Room / Computer - Printer Access
---
---
Photos
FBO side parking
Global Express. Endless ramp space!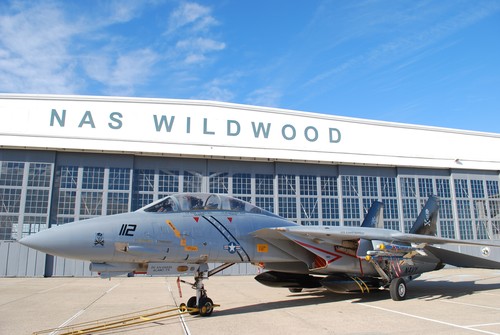 NAS Wildwood Aviation Museum
Blackhawk Alpha Company