Business Overview
Jet Aviation Houston is one of the largest and modern operations at Hobby Airport and is conveniently located only seven miles from downtown Houston. From quick turns to extended stays, Jet Aviation Houston has the experience, personnel and facilities to make your visit hassle free.
Our spacious passenger lounge is a great place to relax and our pilot accommodations are designed to make every visit as comfortable and private as possible. Whether your visit is a few hours or overnight, our customer service has the capabilities to accommodate any request.
Services Offered
Hours of Operation
Facilities
Complete line service
10,000 sq ft drive-thru canopy (929 sq m)
200,000 sq ft clear access ramp (18,581 sq m)
85,000 sq ft clear-span hangar (7,897 sq m)
Fitness center
Wi-Fi
Video conferencing
Large conference room
Snooze room
Flight planning room
WSI pilot weather service
Crew cars
Services
Nightly hangar
Domestic and international handling
Complete line service
Aircraft cleaning
Aircraft refueling
Passenger and Crew Services
Passenger and crew transportation
Rental cars on premises
Hotel coordination service
Catering coordination
Credit
Phillips 66 Aviation Corporate Card, Avcard, World Fuel, Air Routing, Colt, Multi Service, UVair, American Express, MasterCard, VISA
Photos
FBO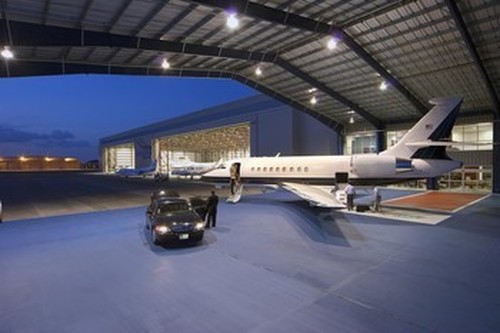 Houston Hobby's Only Canopy!