Business Overview
McKinney National Airport - TKI
FBO: McKinney Air Center, 972-547-3401
"Your North Dallas Business Aviation Connection" - access to popular corporate business parks, sporting venues, event centers, retail and restaurants located in McKinney, Plano, Allen, Frisco, Richardson and Dallas.
On the fringe of DFW Class-B airspace, simplifying and shortening aircraft arrival/departure times thereby reducing aircraft operational costs. No landing fees.
Runway 7002' x 150' with parallel taxiways
Services Offered
Air Traffic Control Tower, 6 am to 10 pm daily
US Customs officer on-site during day, call ahead 972-562-2550
Full Service FBO/maintenance/avionics
#1 US FBO by Pilots Choice Awards 2017, 2016 & 2014
#6 US FBO by Pilots Choice Awards 2015
Quick Turn Service
US Customs Clearance
International Trash Disposal
VIP service
Movie Room
Pilot Sleep Rooms
Onsite Car Rentals
Controlled Climate Hangars
Contract Fuel
Complimentary Coffee and Ice
Gourmet Catering
Overnight /Extended Stay Hangar Space and Tie-Downs (G5 Size)
Red Carpet Care
Lavatory Service
Aircraft De-Icing
Hotel Discounts
Ramp Side Vehicle Access
Self-serve pump
Photos
New McKinney Air Center June 2019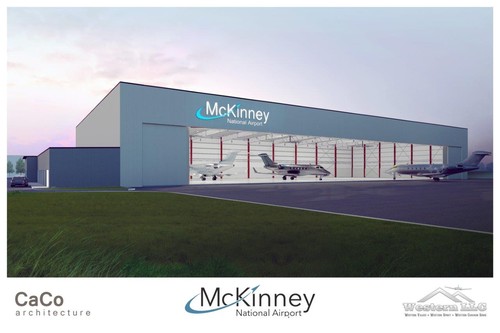 New 40,000 sq. ft. hangar with office and enclosed garages
#1 US FBO
McKinney National Airport Control Tower
Main Lobby
Pilots lounge
Lobby Area
Kitchen
Awards and Aircraft Display
The "MAC"