Business Overview
Jet Center Los Angeles, located at Hawthorne Municipal Airport, is home to many thriving businesses such as Advanced Air and SurfAir. With a convenient conference room, state of the art theater room, pilot briefing room, and superior customer service, Jet Center Los Angeles is setting a new standard. Jet Center is also home to one of the best airport restaurants in the country: Eureka! Tasting Kitchen. With outstanding reviews on both Yelp and TripAdvisor, Eureka! is complete with modern music, specialized burgers, and a full bar featuring craft beer and small batch whiskies.
Services Offered
Fuel available: 100LL Jet A Fuel (available 24 hours self-service daily) + AvGas
Parking: tie-downs
Airframe service: MAJOR
Power plant service: MAJOR
Bottled oxygen: HIGH
Bulk oxygen: HIGH
Photos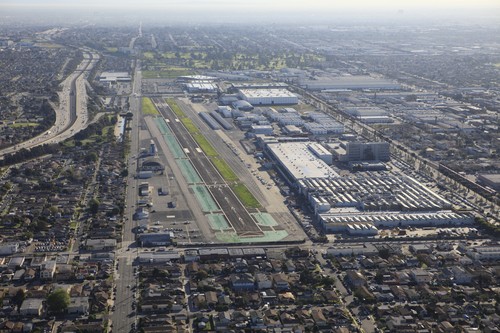 Jet Center Los Angeles is right around the corner from LAX
Our conference room
Two new hangars under construction!